First Choice Health Centers has partnered with the Town of East Hartford Health Department and Connecticut Harm Reduction Alliance to host a Harm Reduction Mobile Unit at our center located at 809 Main Street in East Hartford during these times:
Mondays 1pm-2:30pm
Fridays 9:30am-11:30am
It might not look that different from other vehicles, but in truly living up to its slogan: "THIS VAN SAVES LIVES!"
Did you know that most recent overdoses in our neighborhood were linked to crack cocaine use because this drug and many others are now being cut with Fentanyl?
The Harm Reduction Mobile Unit gives out Fentanyl test kits to encourage people to check before using.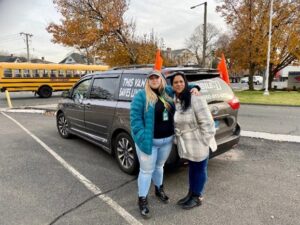 Madeline and Sierra, standing here in front of Connecticut Harm Reduction Alliance's Harm Reduction Mobile Unit, are happy to provide free harm reduction supplies to those experiencing addiction or homelessness and their concerned neighbors and/or loved ones.
Other items available:
Safe sex kits
Injection kits which include everything needed including water ampoules
Narcan
Wound Care
Warm clothing, tents, and sleeping bags are sometime available
More information on this harm reduction initiative can be found here: